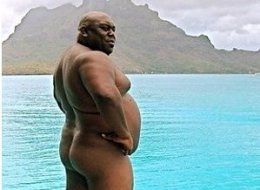 There's a point in 'Couples Retreat' where, as part of a trust-building exercise, the couples take to the beach to strip down to their underwear and awkwardly stare at each other. As heavy-handed comedians would have it, the person you most don't want to see naked isn't wearing any underwear and is forced to bare all.
Faizon Love talked to
Uinterview.com
about dropping his pants and forgoing the modesty of a cock sock:
Peter Billingsley came to me and said, 'Most actors put a sock or something on [their penis for nude scenes].' There wasn't enough material for a sock for me. And they couldn't fly one in for the weight regulations of the island or something... What was funny was that after we did the [nude] scene, I kept getting gifts from people on the island. They would take a pineapple and coconut and make a 42'' plasma [for me].
WATCH: